1. Microtek Static Converter UPS SEBz 1100 V2 inverter: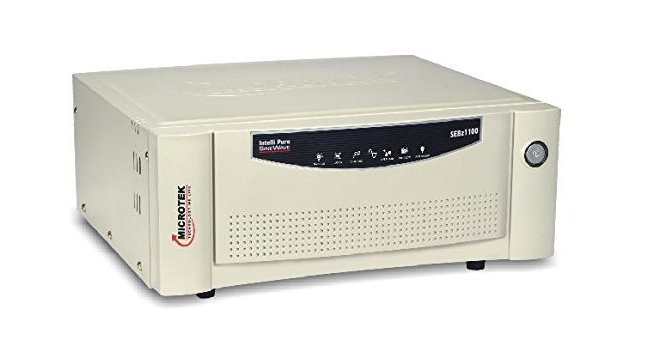 Starting our list is the Microtek Static Converter UPS SEBz 1100 V2 inverter. It is a popular brand that manufactures consumer electronics. And it is a go to choice for many home owners as well.
Microtek Static Converter UPS SEBz 1100 V2 inverter is a best equipment for handling small to medium watts power. This inverter can tackle a maximum load of 800W.
The UPS transfer from the inverter to the connected devices is just about 15milliseconds. So, it is definitely an ideal equipment for power backup in a home. It comes equipped with DSC (digital signal controller) based intelligence control design which is the latest technology that is being used in all the modern day inverters.
It automatically switches to UPS from mains and vice versa if and when power cut occurs. This model comes with an external cable which will help you to connect the inverter to its battery.
One thing you should note here is that the battery isn't included with the package. You have to get it separately. With this equipment, you can run printers, refrigerators, and washing machines without experiencing any power related problems whatsoever.
So, it is a good choice for running large home appliances without any power hiccup.
Pros:
Comes equipped with the latest DSC based intelligence control design.
Can handle a maximum load of 800 watts.
External cable is included.
You can run printers and other large home appliances with ease.
Cons:
The battery isn't included in the package which will invariably increase its total cost.